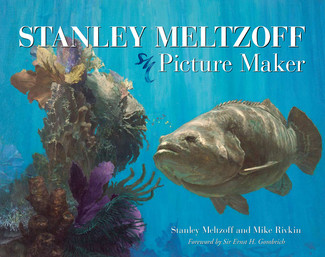 « Back to listing
Plus shipping and CA sales tax (8.75%) if applicable
The first comprehensive book on the life and work of legendary artist Stanley Meltzoff is finally in print! Stanley Meltzoff - Picture Maker was nearly done when the artist passed away in 2006 and the project was put aside. Now angler and IGFA historian Mike Rivkin has completed the job in a lush oversized format. This book is truly exceptional and belongs on the coffee tables of discriminating sportsmen around the world.
Fans of game fish art will have no trouble in recalling Stanley Meltzoff. He was the first artist to realistically portray all the major game species in their natural habitats, and today his body of work is recognized as the very best of its kind. Born in Brooklyn in 1917, Meltzoff received a classical education in the arts before joining The Stars and Stripes Army newspaper as an illustrator during WWII. Later he taught at the prestigious Pratt Institute of Fine Art in New York before becoming one of the leading commercial artists in the country. Meltzoff paintings have graced the covers of Field & Stream, Scientific American, The Saturday Evening Post and countless other publications. Among his most famous work was the iconic cover of the At&T bicentennial telephone book, of which more than 176 million were distributed nationwide. In 1960, Meltzoff completed a groundbreaking series on striped bass for Sports Illustrated that made him an instant celebrity in the world of sporting art. During a hugely productive second career, his renderings of billfish, bonefish, tarpon, and tuna served to define the genre while drawing accolades from every quarter. His death in 2006 at age 89 stilled a paintbrush that may never be equaled.
Stanley Meltzoff - Picture Maker includes nearly 190 color plates of the artist's work throughout his career, plus lively narratives from both Meltzoff and co-author Mike Rivkin. This deluxe edition will be limited to 500 copies and include a navy blue cloth cover, signed-and-numbered bookplate tipped in, vintage Meltzoff poster, and game fish art catalogue from the early 1980s.
Published by Silverfish Press, 2009, hardbound, oversized 10"x13" format, 182 pages, fully illustrated.