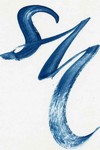 LITHOGRAPHS are ...
... images printed in the traditional way on large rotary presses. They are created from a series of engraved plates often used for a single printing and then destroyed. While their resolution is generally not quite as good as digital giclees, signed-and-numbered lithographs from important artists are true limited editions that will generally hold their value ... and more.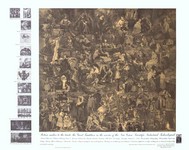 Stanley Meltzoff trade card
Large and beautifully rendered image of Meltzoff's signature "trade card", sepia composite at right is a juxtaposition of classic images while thumbnails along left-hand side are samples of the artist's work, tongue-in-cheek caption at bottom reads (in part):
"Picture Maker to the trade: the Great Tradition in the service of the New Vision. Scientific, Industrial, Technological, Natural Historical, Political, Military, Genre and Sporting Subjects, also Family Portraits, Founders, Still Lives, Landscapes, Seascapes, Interiors & Nudes. Chirography, Lithography, Photography, Engraving, Collage, Gilding, Hand Lettering, and Restoration. Linoleic, collagenic, polymer, and occult mediums. Paintings in oil while you wait. Optical naturalism applied to scientific reality from an historical viewpoint by individual sensitivity." Printed on rag paper, approx. 24"x28"
HOLIDAY SPECIAL: THIS ITEM FREE WITH PURCHASE OF ANY OTHER LITHOGRAPH OR GICLEE. Offer good through January 2012.